NO AGENDA 1500 - customizable canvas cover art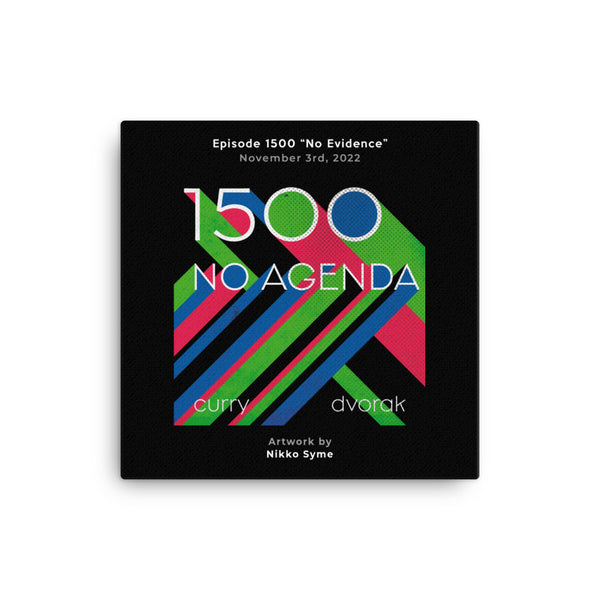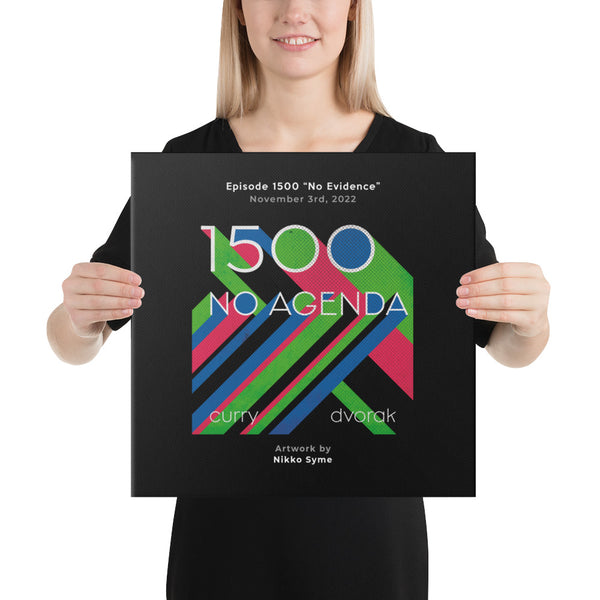 HOW TO CUSTOMIZE & ORDER
You can update the lower area with your own custom credit and name or message. If you'd like the piece as is, with the artist credit, don't customize, simply pick a size and ADD TO CART.

TO CUSTOMIZE...
1. FIRST pick a SIZE
12" x 12" canvas with show art printed at 8.5" x 8.5"
16" x 16" canvas with show art printed at 10.25" x 10.25"
- Some artwork may be printed sharper than others due to original image quality
NOTE:
"canvas only" image above is the 12" x 12"
model is holding a 16" x 16" canvas

2. CLICK on PERSONALIZE DESIGN
it's under the Add to Cart button
an interactive popup window will appear next

3. Start with a personalized TITLE
Produced by, Knighting Achieved by, Celebrating 33 Years, etc...

4. Start with a personalized NAME or MESSAGE
Your name, a loved ones, fellow listener's, peerage level, timecode, etc ...
5. PROOF-READ and finally ADD TO CART
You will see a preview of your custom message as you type, click "add to cart" when ready. Close the pop up preview window to start over, or refresh your browser tab.
The TITLE and NAME/MESSAGE ideas are just suggestions, feel free to personalize as you see fit, you can even swap the colors, white for the upper area, grey for the lower area, pinks, yellows, etc.

NOTE: Default title text color that matches the upper show information is Grey 1. Default lowest message text is White.
WARNING: TRIPLE CHECK YOUR SPELLING / CAPITALIZATION / GRAMMAR since this is a personalized product we can't offer refunds for typos and stay in business. Learn about our return policy HERE.

NOTE: These canvases are available because we have received higher resolution show art from the original artist. 16x16 canvas options are usually only available if we have received that artist's file.

ARTISTS: contact us here to feature your higher res art
RESOURCES: peerage level
SPECS - custom canvas
This unique art is available in two sizes!
1.5" deep
16 x 16 will have larger black matte than the 12 x 12
16 x 16 show art image will print at 10.25 x 10.25
12 x 12 show art image will print at 8.5 x 8.5
Acid-free, PH neutral, poly-cotton base
20.5 mil thick canvas, 470 g/m²
Mounting brackets included
Hand glued solid wood stretcher bars
Printed on textured and fade-resistant canvas (OBA-Free)
SHIPPING - made to order
This item is created after your order is placed. US orders average 5-10 business days to arrive. International orders can take twice as long to arrive depending on distance traveled. If you order multiple items, it is likely that not everything you order will ship together.

NOTE: For international customers who do not see a shipping option during checkout, please notify us at shop@noagendashop.com with your address and desired items so that we can make shipping to your country available moving forward. Once your country has been added to our list, it will always be available moving forward.
can't find your desired show art?
The fastest way to see if your show art is available as a print is to click on the magnifying glass in the upper right corner of the header and type the four digit episode number. Add a zero to the front of any three digit episode, for example, 0333 instead of 333.
Some episodes are not available yet BUT you can request them
Some might only have the customizable canvas option available
If you don't see texts links like the ones below in the product description that means only the custom canvas option is currently available, mainly due to time constraints.


If you would like to order a customizable canvas, canvas cover, XL canvas, or cover poster not available yet... you can request it by contacting us here with the episode you would like and we will let you know if the style of print and size you are looking for is possible.